The High5 gives young alums the opportunity to give back to help future Eastern students in an affordable way starting in their senior year. Seniors make a five year pledge that starts with a $10 gift, and continues at $10 a year for each of the next four years after that.
*Your pledge to the High5 program can go toward whatever you choose!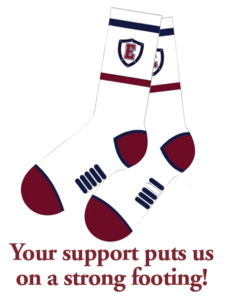 It could be the High5 scholarship, athletics, an academic department, a club or organization or any other area of campus you're passionate about.  All your donations will benefit the pre-existing fund you choose and are a great way to say thank you to whatever made your Eastern experience memorable.

Show you care and get a matching pair!

Donors who give to High5 will receive a pair of Eastern Socks.

Show your Eastern pride and give us a High5!

*All gifts will be directed to the closest related pre-existing fund.